Teeth Whitening with Zoom!® Advanced Power
A bright, healthy smile can illuminate your whole face. If you struggle with mild to moderate dental stains, whitening treatment can enhance your appearance and self-confidence. Dr. Victor R. Siegel and his team proudly provide Zoom!® teeth whitening at their Rockville, MD, practice. This highly regarded treatment offers professional-strength whitening using both in-office procedures and at-home kits. Both options use a specialized gel to break apart stains on the surface of your teeth. Dr. Siegel can help you enjoy safe, comfortable care and outstanding final results.
Video: Zoom!® Teeth Whitening
Are You a Candidate for Teeth Whitening?
Teeth whitening is a good option for most patients with external dental stains. Whitening may not be appropriate if you already have a dental crown or bridge on your front teeth as these restorations will not respond to treatment. If you suffer from dental sensitivity, you can still undergo whitening, thanks to our careful techniques and the gentle Zoom!® formula. If you are looking for an even more dramatic smile transformation, Dr. Siegel can combine whitening with other cosmetic treatments, such as porcelain veneers and crowns. After whitening, you can choose a lighter restoration that will match the newly enhanced shade of your smile.
The Benefits of Teeth Whitening
Zoom!® Teeth Whitening can lighten your teeth by up to eight shades, giving you a dazzling smile that may look significantly whiter. The treatment is also convenient, and you can choose to whiten in the way that is easiest for you. For example, if you are preparing for a major event, you can rejuvenate your smile in just one round of office treatment. Additionally, teeth whitening is affordable, and we can help you select the type of whitening that most suits your budget. Finally, with proper maintenance, whitening results can last for years. To preserve your bright smile, you will need to practice good oral hygiene and receive regular touch-up treatments. We can perform those subsequent procedures in the office, or we can provide the materials for touch-ups at home.
Your in-office treatment time should take about an hour and can provide you with a smile that is up to eight shades lighter.
How Does Teeth Whitening Work?
If you decide to whiten your teeth in our office, we will evenly cover your teeth in a uniquely formatted Zoom!® whitening gel. Because we will place a barrier over your gums, none of the gel should touch your soft tissues, and the treatment should involve very little discomfort. To activate the gel, we will shine a specialized light on your teeth. The light activates the whitening agents in the gel, breaking apart stains. This process typically takes about 15 minutes, and we will apply three or four rounds of gel. Your total treatment time should take about an hour and can provide you with a smile that is up to eight shades lighter.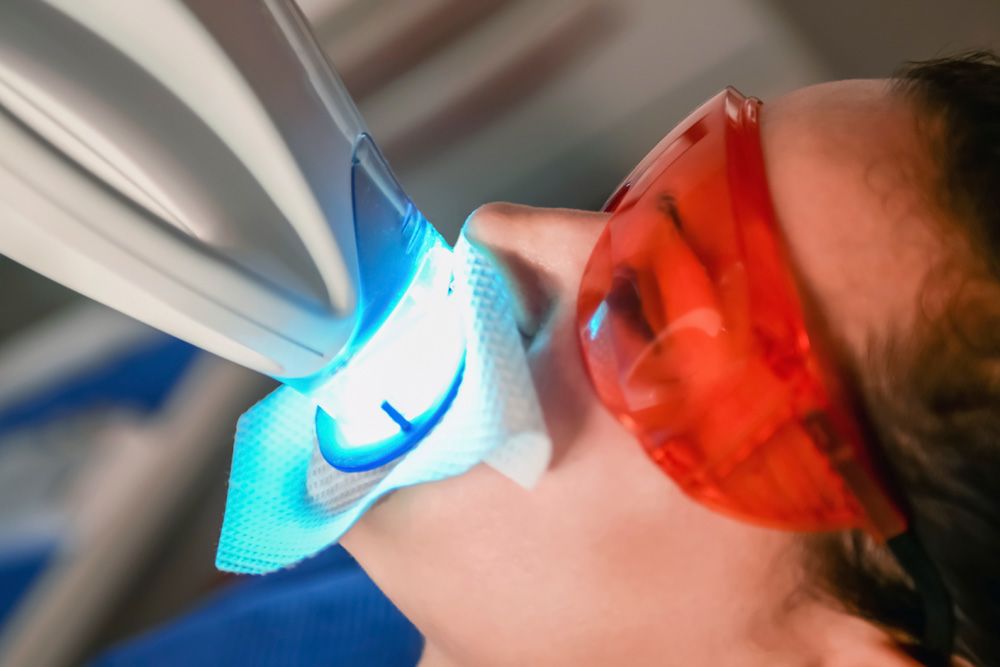 If you choose at-home treatments, you can achieve similar results, although treatment will take longer. For your take-home kit, we will provide whitening trays, made from impressions of your teeth, as well as specialized whitening gel to place in your trays. Typically, you will need to wear the trays for 30 minutes each day for about two weeks. In some cases, we offer overnight whitening. We can work with you to choose the right strength of gel to ensure your comfort during treatment.
Enhance Your Smile
Professional teeth whitening can help you safely achieve the aesthetics you desire. To learn more about teeth whitening and to find out if it is right for you, contact Dr. Siegel's office today.