Smoking and its Effect on Oral Health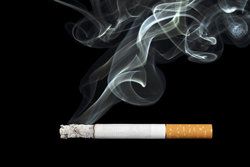 Smoking can be an extremely difficult habit to quit. But unfortunately, the toll that smoking can take on your oral health over time is in line with the damage that it can do to your lungs and other areas of the body. Rockville dentist Victor R. Siegel has seen how smoking can damage oral health first hand, and is dedicated to educating patients on the very serious dental issuesthat smoking can cause. To monitor the dental health of patients who smoke, we may recommend general dentistry exams at more frequent intervals. In cases of health problems concerning the teeth and gums, we offer effective treatment.
The Cosmetic Effects of Smoking on Your Teeth and Gums
Smoking is a habit that can have damaging cosmetic effects:
Tooth Discoloration - The tar and smoke of cigarettes can leave a permanent mark on your teeth in the form of yellow and brown stains. Over time, this discoloration can work its way deep into teeth and become more difficult to remove with at-home care and professional cleanings alone. For those with tooth discoloration, teeth whitening treatments can be performed to correct the problem.
Increased Risk of Halitosis - One distinctive trait that all smokers share is smoker's breath. A combination of the chemicals found in tobacco smoke and the increased bacteria growth encouraged by smoking combine to create an aroma that many non-smokers find off-putting.
The Physical Effects of Smoking on Your Teeth and Gums
While the cosmetic effects of smoking should be enough to make chronic smokers reconsider the habit, there are also serious physical effects that smoking can have on a patient's oral health:
Increased Risk of Gum Disease Development - Smoking can change the composition of plaque buildup on your teeth and beneath your gums, making it harder to remove and more likely to lead to infection and gum disease. It is also believed that smoking can irritate gums and damage the way that they attach to the teeth and bones within your dental structure.
Increased Risk of Tooth Decay - That sticky plaque buildup leading to gum disease can also have a profound effect on your teeth, putting you at higher risk for cavities and tooth decay in general.
Higher Failure Rate for Dental Implants or Healing After Oral Surgery - Many oral surgeons will refuse to operate on patients who cannot commit to quitting or at least significantly cutting down on smoking. This is for a couple of reasons. The obvious problem is that smoke can irritate the incision site and make it harder for the wound to heal. Another complicating issue is that smoking decreases the amount of oxygen flowing through your bloodstream, depriving your surgical wound of the oxygen it needs to heal efficiently.
Are There Long-Term Effects of Smoking on My Oral Health?
Some effects of smoking can be controlled with a thorough teeth-cleaning regimen, but other effects are not so easily avoided. For example, smoking can lead to lung cancer, oral cancer, and throat cancer as carcinogens from cigarette smoke come into contact with your gums and the delicate tissues inside of your mouth.
Schedule an Exam with Dr. Siegel Today
Dr. Siegel and his team can turn around the cosmetic and general issues that smoking may cause. To schedule an appointment, contact our office today.
Related to This