Are you frustrated by missing or failing teeth but at the same time overwhelmed by all the choices for dentures and partial dentures?
Victor R. Siegel, DDS, in Rockville, MD, carefully walks you through your options so you can restore your smile and bite with confidence.
We offer a full range of dentures, from traditional to implant-supported, so you can find the perfect fit for your needs and budget.
We Lift Smiles and Spirits Every Day
See Our Incredible Results
We can take a person who was so embarrassed to smile and give them something that will allow them to have the self-confidence that they've lost.
Choosing dentures is an important decision and we understand that for many people it includes an emotional hurdle. But we encourage dental patients to also look at this as a step forward toward improving their oral health and rediscovering their smiles.
Looking to Replace Missing Teeth?
Call for a Consultation
Whether you are just starting to consider dentures or are looking to upgrade your dentures, Victor R. Siegel, DDS, in Rockville, MD, offers state-of-the-art technology to ensure a comfortable, secure fit and the personal touch that lets you know your concerns have been heard and addressed.
We treat our family of patients as we would our very own family members. We get to know each patient personally, starting with your first appointment when we will spend an hour getting to know you, your concerns, and your goals.
If you are ready to move forward, we suggest requesting a consultation so either Dr. Victor R. Siegel or Dr. Aviva Kramer can make recommendations based on your needs. They will patiently answer your questions and go over the pros and cons of each solution so you feel confident in your decision.
"Best Dentist Ever"
5-Star Reviews From Rockville Patients
Dr. Siegel is the BEST dentist ever! ... Dr. Siegel's office offers top notch up to date equipment and discusses a dental plan with options that work best for you. No pressure!
View On Google
Most compassionate dentist you will ever find. Dr. Siegel changed my life forever! I am forever grateful. His office staff is equally amazing!
View On Google
Dentures can help patients suffering from the following dental problems:
Uneven Bite
If your missing teeth make dental function, such as chewing, difficult, it's time to consider removable or implant-supported dentures to even out your compromised bite.
Self-Consciousness
Our smiles allow us to greet others, express emotion, and make a lasting impression. If you feel self-conscious about your dental appearance, take action with dentures.
Oral Health Problems
If you have oral health issues, such as tooth decay and gum disease, that have progressed to the point of extraction, consider replacing the gaps left behind with partial dentures.
Rediscover Your Smile ...
If you've grown frustrated with missing teeth or damaged, weakened teeth, modern dentistry gives you a wealth of options.
Victor R. Siegel, DDS
, in Rockville, MD, offers a full suite of tooth replacement options that look like natural teeth and will let you smile and share meals with friends confidently.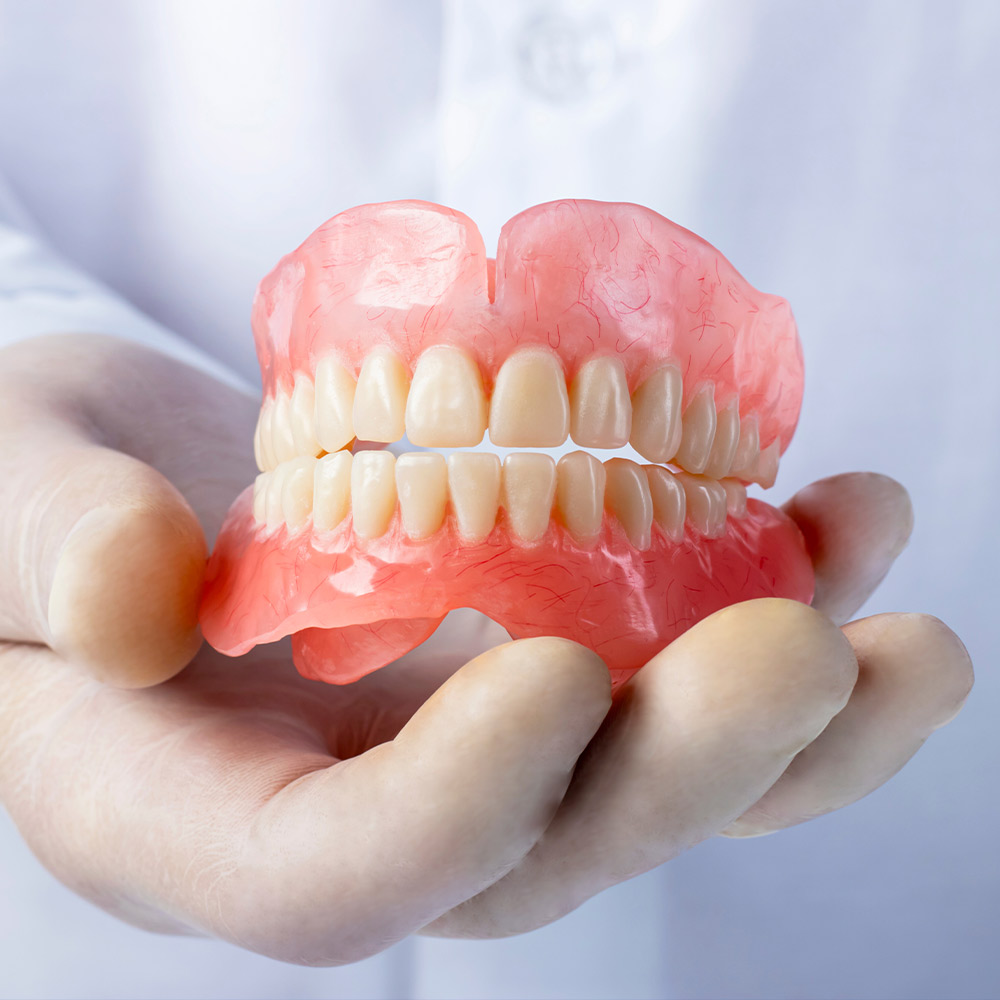 Traditional full dentures offer a fast and affordable way to restore your smile and are vastly improved over the bulky, ill-fitting options of years past. Using advanced technology, our dentists will carefully map your mouth to ensure your dentures have the snug-comfortable fit that will inspire confidence when smiling and eating. While traditional dentures look like natural teeth and gums, they are removable and simply rest on your gums. They are held in place by suction and adhesives. We take extra care to color match both the teeth and gums for a natural look.
Implant-supported dentures are fixed in your mouth using dental implants, small posts that are surgically inserted into the jawbone. The denture is then attached to the implants, preventing it from ever slipping in your mouth. You will also have a stronger bite than can be achieved with traditional dentures. It's almost like having your real teeth back.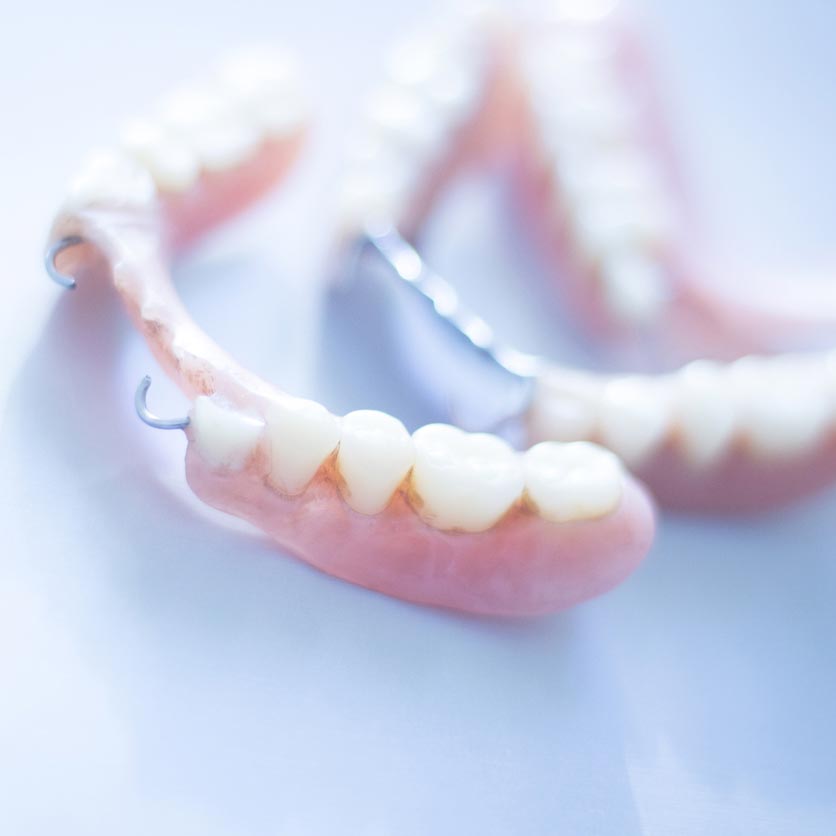 If you still have several healthy teeth left but have gaps here and there, our dentists may recommend a partial denture. A partial is a denture that restores teeth, tooth by tooth, wherever they are missing in your mouth. It is typically held in place by clips that attach to nearby teeth. Another, more secure option, is to attach individual artificial teeth or dental bridges to dental implants placed wherever you are missing teeth in your mouth.
Do You Lack the Bone Density
For Implant-Supported Dentures?
Consider All-on-4 Dentures
"Expertise and Vast Experience"
More 5-Star Reviews From Rockville Patients
Dr. Siegel and his entire team's handling of this pandemic is exceptional. My visit felt completely safe in every detail. I can highly recommend Dr. Siegel's expertise and vast experience while using state of the art technology, and I also appreciate the friendly and cooperative attitude of the team. He replaced a dental brigand I am very pleased how perfectly it fit, looked and felt immediately.
View On Google
I have been seeing Dr. Siegel and his hygienist Jilna (sp?) for several years and absolutely recommend them. Dr. Siegel is a true professional that is willing to spend tine with patients. Jilna is a treat to visit with. Super nice and expertly gentle and gives helpful advice in a non critical way. Round it out with Angelica, the receptionist who is appropriately named and they make a great team.
View On Google
A Closer Look at Dental Implants ...
Nervous About Treatment?
We Offer Sedation
Dr. Siegel offers relaxing oral sedation to patients that are nervous about their dental implant procedure. Oral sedation and a local anesthetic to numb the surgical site make the procedure virtually painless.
"Love this dental practice!"
More 5-Star Reviews From Rockville Patients
Love this dental practice! Expert care, super nice staff, easy appointments, parking, etc.
View on Google
Dr. Siegel is a brilliant dentist. Not only is he a perfectionist, but in everything he does, his main concern is you.
View on Google
Do you have conventional dentures and are considering upgrading to an implant-supported option? In many cases, Dr. Siegel can convert your dentures and save you money.
The Cost of Dental Implants
It's no secret that dental implants can provide many benefits for you to enjoy a healthier and more functional smile.
Guided dental implant surgery starts at $2,200, but many other factors contribute to the overall cost. A single-tooth dental implant replacement is typically just under $5,000. This cost isn't drastically different from our three-unit dental bridges, which cost $4,500 to replace one missing tooth.
Invest in your health with dental implants, and we'll help you finance the cost with monthly payment plans.