Invisalign® Invisible Braces Rockville
At the dental practice of Victor R. Siegel, DDS, we want to improve your smile without having to interrupt your life. Depending on your dental needs, your treatment may include essential orthodontic work to straighten or realign teeth that are crooked, crowded, twisted, or have gaps between them. At our Rockville practice, near Potomac and Bethesda, we use Invisalign® to correct misaligned smiles without resorting to painful and potentially embarrassing brackets and braces of conventional orthodontics. Since Invisalign® was introduced to the cosmetic dentistry world, more than half a million people have used the system to straighten and beautify their smile. Contact our Rockville cosmetic dentistry office today to learn more about the Invisalign® system.
What is Invisalign®?
Created by Align Technology, Inc., Invisalign® utilizes a series of clear aligners to gently and effectively straighten teeth. Whether your teeth are crooked, twisted, crowded, or spaced too far apart, Invisalign® can help, leaving you with the beautiful smile you've always wanted. At our office serving Potomac, Bethesda, Rockville, and beyond, we use Invisalign® invisible braces to correct crossbites, overbites, and underbites as well. The best part is that most people will not notice that you are wearing Invisalign® aligners. They can also be removed for eating, brushing, and flossing, making them more convenient than traditional metal braces.
How does Invisalign® work?
After reaching adulthood, many people would prefer not to spend several years wearing uncomfortable metal braces to straighten their teeth – especially if they've already had braces. Whether you've never had major orthodontic work or your teeth have shifted a bit since wearing braces as a child, Invisalign® is generally one of the simplest and most effective treatments for misaligned smiles.
During your first appointment at our office, we will discuss your specific goals and desires for your smile, and answer any questions that you have about the Invisalign® system. After putting together a treatment plan, Dr. Siegel will take impressions of your bite and send them off to the Invisalign® lab. Using three-dimensional computer imaging, the lab will create a set of clear plastic aligners developed specifically to meet your needs.
The Invisalign® aligners will gently move your teeth into place over the course of about a year. You will wear each aligner for approximately two weeks before moving onto the next in the series. Periodically, you will return to our Rockville office so that we can check your progress with Invisalign® and ensure that your teeth are steadily moving into place.
What are the benefits of using Invisalign®?
Invisalign® is a great way to straighten teeth without letting everyone know you're undergoing orthodontic treatment. The clear Invisalign® aligners can be worn all the time, but are virtually undetectable. The aligners may also be removed for brushing your teeth, eating, and flossing, so that you can still enjoy all your favorite foods.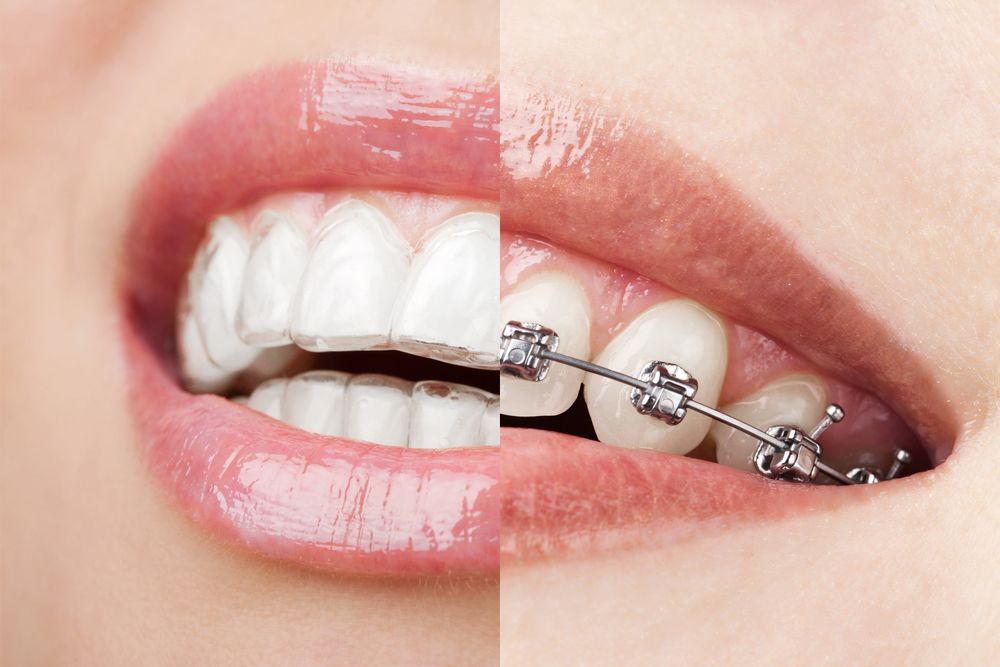 Traditional metal braces are difficult to clean and can trap food particles, which can cause plaque to go unnoticed until it begins affecting your general dental health. Our Potomac, Rockville, and Bethesda patients generally report that the Invisalign® system is simple to use and is easily integrated into their everyday lifestyle.
Because Invisalign® corrects your natural teeth, it is also a viable alternative to porcelain veneers (instant orthodontics), which require a small removal of tooth structure.
How long will I wear Invisalign® aligners?
Although each Invisalign® patient is different, most complete their Invisalign® treatment within a year to 18 months. During that time, you will wear a different aligner every two to three weeks.
Am I a candidate for Invisalign®?
If you have a crossbite, underbite, overbite, or teeth that are crooked or misaligned in any way, Invisalign® could be right for you. Most adults are excellent candidates for Invisalign® treatment, especially those who need to have their teeth straightened, but would like to do so discreetly.
Contact Our Invisalign® Dentist Today
Invisalign® is the state-of-the-art method of straightening crooked teeth and bite problems without the use of traditional orthodontic devices. If you live near Rockville, Potomac, or Bethesda, and would like to learn more about Invisalign®, contact our cosmetic dentistry office today. We'll help you transform your crooked teeth into a beautiful smile that will last a lifetime.