Receive Lifelike Porcelain Crowns during One Convenient Appointment
If you have a weakened, cracked, infected, or severely decayed tooth, you may benefit from a custom-made dental crown. Using CEREC® technology, Dr. Victor R. Siegel can design, manufacture, and place lifelike porcelain crowns in a single appointment. At our Rockville, MD, practice, Dr. Siegel can ensure beautifully lifelike results. Our advanced tooth-colored restorations will never change color or affect the shade of your smile. Our crowns also offer several functional benefits, providing vital strength without some of the drawbacks of metal restorations. Best of all, porcelain crowns can fully restore your oral function and prevent additional dental damage.
Do You Need a Porcelain Crown?
Porcelain crowns are one of the most versatile types of dental restorations, and they can address a broad range of concerns. Our team may recommend a crown if you are struggling with issues such as:
A severely decayed tooth
A broken or weakened tooth
A worn tooth
Dental infection, requiring root canal therapy
A misshapen or disproportionately small tooth
Thanks to our CEREC® technology, Dr. Siegel can often complete your treatment in a single appointment without the need for extra procedures to place and remove a temporary restoration.
Designing and Placing Your Crown
Before placing your crown, Dr. Siegel will reshape your tooth, removing all damaged tissue and bacteria. Some patients may require crown lengthening, also known as gum reshaping. He will numb the area beforehand and use very gentle techniques. Therefore, you should experience minimal discomfort during the process. However, if you are still feeling anxious, our sedation dentistry can help you relax in the dental chair.
Typically, Dr. Siegel will use our advanced CEREC® system to take digital impressions of your tooth. These images will be extremely precise and we can display them on an exam room computer as Dr. Siegel uses them to design your custom crown. The designs will feed into the in-office CEREC® milling machine, which will carve your crown from naturally colored porcelain in less than an hour. When the restoration is finished, Dr. Siegel will attach it to your tooth with an exceptionally strong bonding material. You can complete the entire treatment process in one visit without the need for temporaries.
The Benefits of Porcelain Crowns
Dental crowns can have tremendous benefits for your smile and oral health. Your restoration can renew your oral function so that you can enjoy a wide range of foods. If you have a worn or unusually shaped tooth, your crown can improve your appearance, giving you a more even and uniform smile. A crown can also be a cosmetic treatment to improve the shade of a severely stained tooth that does not respond to teeth whitening.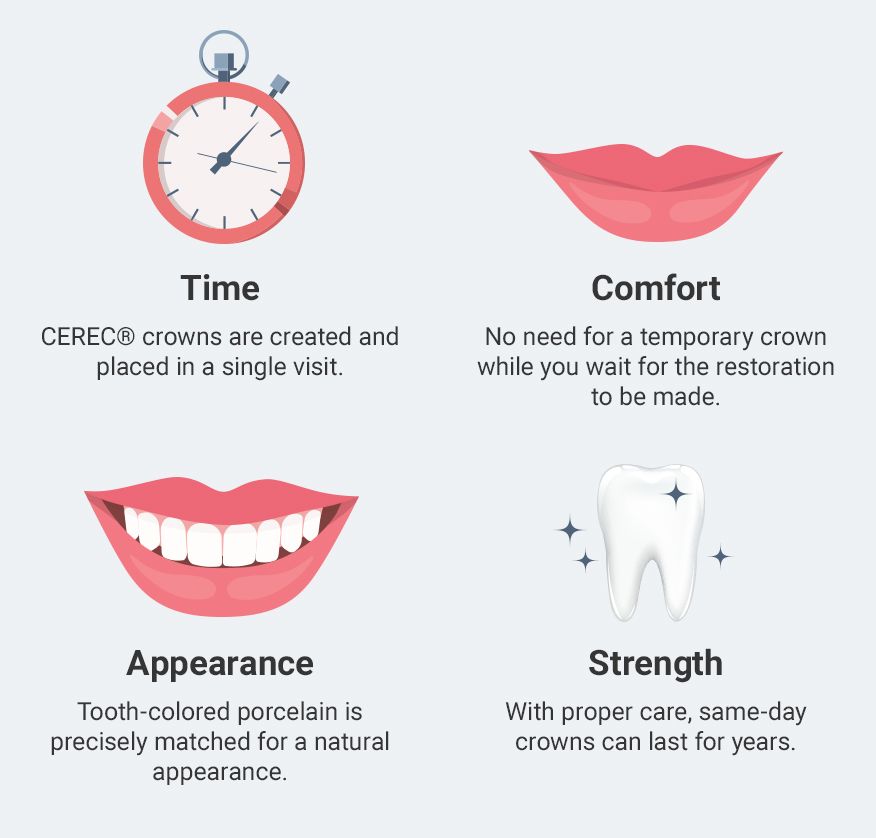 CEREC® offers a number of unique benefits to our patients.
Additionally, porcelain crowns offer several advantages over metal restorations. Most obviously, porcelain will blend better with your smile. Dr. Siegel will choose a shade that is a near-perfect match to the rest of your teeth. In addition, porcelain will not react to temperature as much as metal restorations, preserving your comfort. Thanks to our CEREC® technology, Dr. Siegel can often complete your treatment in a single appointment without the need for extra procedures to place and remove a temporary restoration. In addition, highly accurate CEREC® often requires less tooth alteration. As a result, your treatment can be more conservative and efficient.
Restore Your Smile
To learn more about crowns and the advantages of all-ceramic restorations, contact Dr. Siegel's office today. We can help you restore your oral health for an aesthetic, strong smile.